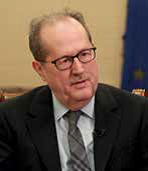 Panayotis Nikas
GOVERNOR OF THE REGION OF PELOPONNESE
It is with great pleasure that the Region of the Peloponnese will take part in the Sympossio 2020, as it is well known that the Sympossio initiative became an institution that has been excellently and very effectively promoting Greek gastronomy and the exceptional quality of traditional Greek products.The Region of Peloponnese is well known for the quality of its agricultural produce. Our strategic aim, as a regional authority is to promote these products, a goal that completely aligns with the objectives of the Sympossio initiative. Peloponnesian gastronomy incorporates the concept, but mainly the essence of Mediterranean diet, whose unique features led UNESCO to enlist it as a representative of humanity's "intangible cultural heritage". In our Region, there is also the historic town of Koroni, which UNESCO has been proclaimed as the Emblematic Community of Greece, for the protection, preservation and dissemination of Mediterranean Diet; as it is easily understood, these distinctions result from the unquestionable quality of the agricultural products of Peloponnese. Prominent treasures of our land are the extra virgin olive oil and Kalamata olives, as well as our excellent wines- most famous probably being the wines of Nemea.
In conclusion, I express my strong conviction that the participation of the Region of Peloponnese in this excellent initiative of Aldemar Resorts and Alexandros Angelopoulos for another year, will promote Greek gastronomy abroad and will also benefit our Region overall.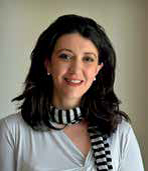 Anna Kalogeropoulou
COUNCILOR OF TOURISM FOR THE PELOPONNESE REGION
A basket of Peloponnesian goodies
In order to progress in the tourist sector, every region must strategically expose its own unique identity. Gastronomy is the ideal territory to attract visitors and promote the uniqueness of our land, and it is a perfect opportunity to bring forward the combination of primary sector with gastronomy and tourism.
The Region of Peloponnese holds a big basket full of products with Protected Designation of Origin (olive oil, sfela, olives, oranges, siglino, raisins, aubergines, rusks, honey, sesame seed candy, figs); with tourism professionals as well as all local people as ambassadors, it attracts numerous visitors every year, and has already established a comparative advantage and an important source of income for the region's economy, through gastro-tourism.
We are present in every extrovert initiative and exposure of our products, and we wish Sympossio 2010 new, happy and delicious journeys around the globe, for the most efficient promotion of Greek gastronomic treasures.
---
GASTRONOMY IS THE IDEAL TERRITORY TO ATTRACT VISITORS AND PROMOTE THE UNIQUENESS OF OUR LAND
---