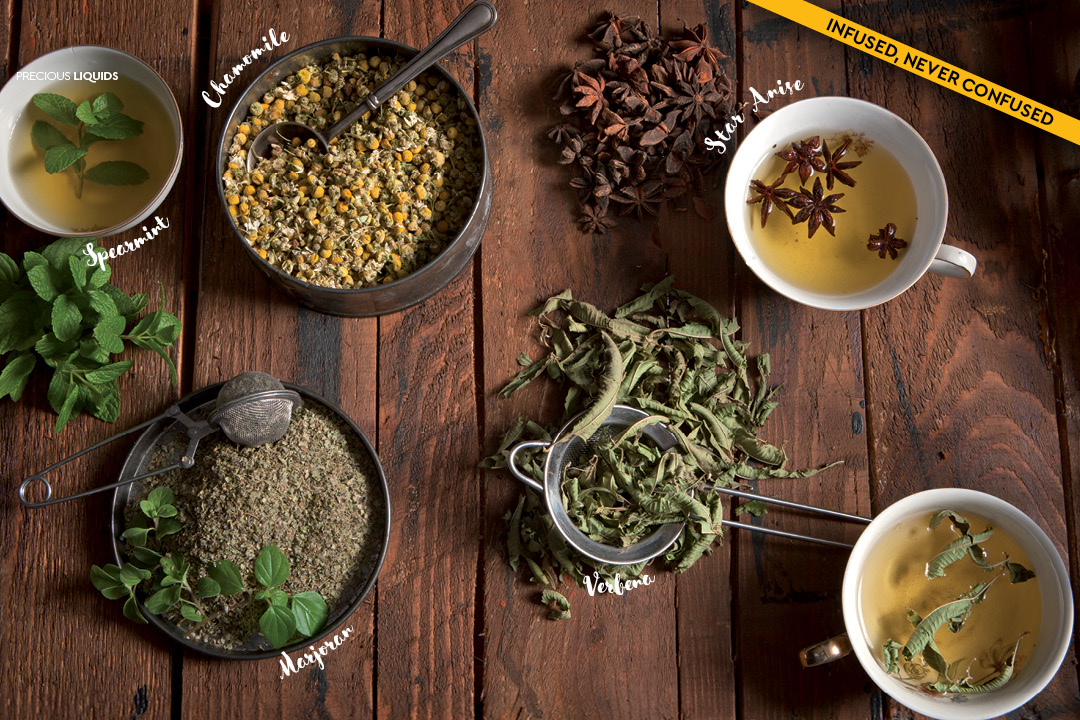 Greek flora offers a plethora of herbs and aromatic plants that can easily turn into beverages, infusions and herbal teas, such as Mountain Tea, Marjoram, Chamomile, Spearmint, Verbena and Star Anise that not only taste great, but also make for valuable health supplements.
Mountain tea
Mountain Tea is a natural energy booster, ideal for cold prevention, and a natural sleep aid.

Take 5-7 Mountain Tea stems and cut them in thirds. Put them in the pot or kettle with 3-4 cups of water. Once the tea starts to boil, remove it and drain it. *for a sweet taste, add 1-2 spoons of honey, once it cools a little
Marjoram
Marjoram is beneficial in soothing sore throats and alleviating headaches and insomnia.

Place 1 tsp. of marjoram in a pot of boiling water. Leave it to rest for 10 min. Strain it.
*for a sweet taste, add 1-2 spoons of honey, once it cools a little
Chamomile
Chamomile soothes stomach ache, expedites healing in wounds and calms muscle spasms.

Place 3 tbsp. of chamomile into your teapot. Pour a cup of boiling water over the chamomile flowers and steep for 5 min.
To serve, pour into a teacup using a fine mesh strainer.
Spearmint
Spearmint has soothing and anti-inflammatory qualities, protecting your mouth and throat from infections.

Wash and tear up the fresh spearmint leaves. Put in a teapot and pour some boiling water over them.
Allow to steep for about 3-7 min., depending on how strong you want your tea.
Star anise
Star anise improves digestion and alleviates conditions like abdominal cramps, indigestion and bloating.

Take 1-2 tsp. anise seeds
and crush them. Pour a cup of boiling water on top.
Allow to steep for 10-15 min.
Verbena
Verbena has many therapeutic uses: from being mildly sedative to providing comfort for metabolic problems.

Place 1-2 handfuls of verbena in a teapot. Heat water to nearly boiling. Let steep for several minutes before drinking, but leave the herbs in.