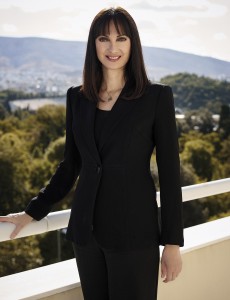 Elena Kountoura 
MINISTER of TOURISM
Greece has emerged as an attractive 365-day destination for global travelers that stands out for the unique authentic experiences offered. We are the only country in the Mediterranean and Europe, with more than 100 islands and spectacular destinations on the mainland, each with their own natural beauty, rich history and culture, and a local atmosphere to explore year-round.
We strongly encourage our visitors to indulge in our famous Greek gastronomy. Healthy and tasty at the same time, it carries along the history and cultural heritage of each destination, and is an integral part of our strategy for sustainable tourism growth. In all thirteen Regions of Greece, our visitors are exposed to distinct culinary experiences, blending tradition with innovation and discover gastronomic routes that enrich their overall travel experience.
The Sympossio Gourmet Touring, celebrating its 10th anniversary, is a dynamic and inspiring initiative showcasing Greece's outstanding gastronomic wealth along with the diverse travel experiences one can enjoy throughout the country.
Our local products of exceptional quality, such as the extra virgin olive oil and the wine are inseparable elements of our country's natural and cultural heritage and bring added value to our tourism product.
The Ministry of Tourism, the GNTO and I personally support initiatives that enhance Greece's extroversion and promote the best Greece has to offer to the world. Tourism, after all, is all about the people.
On this occasion, I extend to you all an open invitation to visit Greece with your family and friends, to experience first-hand the authentic beauty of this country and gain unforgettable travel experiences offered along with our genuinely warm Greek hospitality. Greece is the best choice for your holidays.