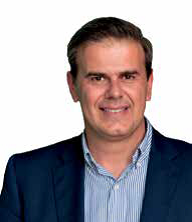 Dimitris Fragakis 
Secretary Genaral GNTO 
The dynamic of a strong Tourism sector towards the promotion of Greek hospitality and tradition. Salutation from Dimitris Fragakis, Secretary General GNTO.
Tourism is one of the most dynamic sectors of the Greek economy, contributing directly and indirectly more than 25% of GDP. Greek tourism as a product has become very popular in recent years, but it has to go to the next stage in terms of maturity and enrichment. This constitutes a prerequisite, in order to attract more visitors and increase revenue.
The shift to quality tourism for Greece cannot be achieved without putting emphasis on our unique comparative advantages; one of them is Greek cuisine, which has been an integral part of our tourism-related initiatives for decades. But we have to go beyond. The time for Greek gastronomy to become one of the main incentives for visitors to choose Greece as their destination is now. Our obligation is to successfully communicate the variety, quality and nutritional value of the Greek cuisine, so that Greece is consciously chosen by more specific audiences for its gastronomy.
We have all the necessary equipment to successfully cope with competition in this area; products of top quality and people with relevant expertise and passion for work. We also have the ability to offer end-to-end experiences connected with gastronomy. Various types of Greek cheeses have their own special identity, while many of them are recognizable worldwide. Thus, a holistic tourism experience connected with cheese culture can be built in almost every region of our country, all year round, a special kind of authentic experiences that will be inscribed in our visitors' memory!
The Greek National Tourism Organisation has integrated the promotion of gastronomy in its next years' strategy and supports all initiatives towards this direction. We believe that is a matter that in fact concerns many sectors, initiators and audiences; a big bet for the Greek tourism that we can win together.
---
A HOLISTIC TOURISM EXPERIENCE CONNECTED WITH CHEESE CULTURE CAN BE BUILT IN ALMOST EVERY REGION OF OUR COUNTRY.