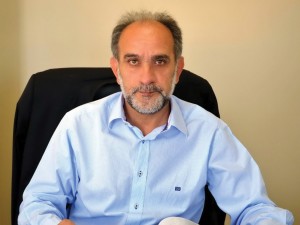 Apostolos Katsifaras
Governor of the Region of Western Greece
The exciting journey of Sympossio , an initiative of Aldemar Resorts, successfully fulfills a journey of 10 years!
The Greek cuisine constantly gains more ground, gaining more friends along the way, enhancing the tourist identity of our country, showcasing the unique quality of our products, offering yet another good reason for everyone to visit Greece.
Greek flavours, being familiar worldwide, all start off from the hospitable spirit of our people; that special Greek culture where the guest becomes the hospitable host's center of attention.
This year, Sympossio lays its focus on olive oil and wine; two products for which Greece's supremacy is unrivalled, on a global scale; two products that underline the uniqueness of the Greek cuisine but also its pure and authentic character, in combination with their special role – more often, in a symbolic sense – within the long history of our land.
In the Region of Western Greece we are proud of our oil producers, of the quality of the oil production and of our oil and wine that we deem are among the best worldwide.
This is one more reason why our local cuisine has its own traits, its special character that makes it an integral part of the country's gastronomic heritage.
This is also why more and more visitors eagerly and gladly return to Western Greece, making our region a dynamically growing culinary destination.