In July 2016, the island of Karpathos organized the International Freediving Competition with Skandalopetra, an international tournament attracting Greek and foreign athletes, attempting to revive an amazing athletic achievement.
SCANDALOPETRA
International Freediving Competition with Scandalopetraat the island of Karpathos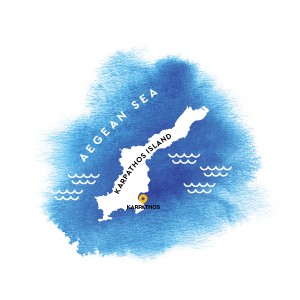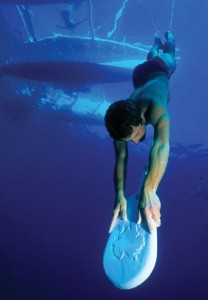 THE STORY
Story has it that in July 1913, when the Aegean was under Italian rule, the Italian battleship Queen Margaret attempted to moor at Karpathos, but lost its anchor out at sea. Despite several efforts, the ship's divers had failed to retrieve the anchor and the captain had asked for men with diving suits, which was not a viable option at the time, due to the great depth of the waters.
Local people then suggested that the Italian captain should look up a diver at the island of Symi, Stathis Hatzis, who would be likely to take on such an outrageous challenge. Hatzis, born in 1878, was medium built, suffering from emphysema (a progressive disease of the lungs) and had one broken eardrum.
He was a sponge diver and a fisherman by trade. When they picked up Hatzis, he was willing to give it a try. He tied himself to a rope and then free dived, with the help of a stone called "skandalopetra" or kampaneli (in the Symi dialect) weighing 15kg. At the depth of 88m, he succeeded in recovering the anchor, which he then tied to the chain so it could be pulled up. By doing so, he safeguarded the honor and prestige of the Italian navy who awarded him with free pass to roam the Aegean and 1 golden coin.
Hatzis had just spent 3 minutes and 58 seconds at a depth of 88m., marking a world record for depth and apnea in diving; a record unmatched by top athletes nowadays, who –even with specialised equipment– can only go up to 3 minutes and 20 seconds! It is rumoured that Hatzis had told the Italian admiral, that he was able to hold his breath for 7 min. at a 40m depth. Hatzis' legendary dive made the Italian headlines, where he was cited as "The Greek with the Devil in his Body".
THE STONE
Skandalopetra is a flat and smooth stone, usually of marble or granite, weighing between 8 and 14kg, with rounded corners and hydrodynamic shape. It has curved edges and a hole in the middle. Depending on handling, the stone can be used to steer in different directions, or it can serve as a brake or ballast.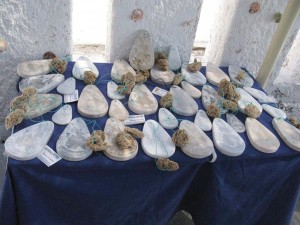 Diving with skandalopetra dates back to the time of Alexander the Great. Skandalopetra was used for fishing and the harvesting of sponges and shells. Divers were attached naked to the stone with a thin cord, whereas the stone was tied to the boat using the same rope. This link allowed divers to descend safely for centuries. Skandalopetra was used extensively until the early 60's, but the diving industrialization and the fact that it was dangerous and difficult work led to its complete disappearance.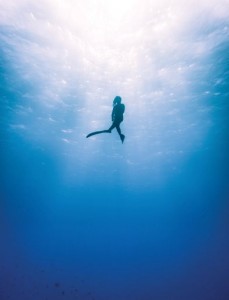 THE SPORT
Fortunately, in modern times diving with skandalopetra has seen something of a revival in competitive free diving under the governance of The World Underwater Federation (CMAS)* that officiates and ratifies competitions and records in this historic activity. There are also many Diving Associations and schools around Europe that now practice Diving with Skandalopetra.
In modern competitions, divers are allowed the use of nose clip and fluid goggles, but no other equipment, such as wetsuits, masks or fins. The Pan-Hellenic record was broken this July at Karpathos with the 45-year-old Chronis Chlitsios descending to a depth of 80.7m, holding his breath for 2 minutes and 28 seconds. His next goal: to break the world record of 107m. We wish him all the best!
* Confédération Mondiale des Activités Subaquatiques (CMAS) is an international conglomeration of 130 national federations across 5 continents.
"Stathis Hatzis" INCREDIBLE, UNASSISTED ACHIEVEMENT, OVER A CENTURY AGO, IS ONE OF THE MOST DANGEROUS DEEP SEA DIVING SPORTS DONE TODAY