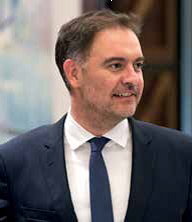 Alexandros Vassilikos
PRESIDENT OF HELLENIC CHAMBER OF HOTELS
TASTY BREAKFAST BASKET 
Year by year, the significance of Gastronomy grows stronger in the Greek mindset – and so do the initiatives promoting relevant products, events and ideas.
It is a common fact that this country has a unique privilege when it comes to quality of goods and variety of tastes, attracting visitors who seek gastronomic value in their journeys. Having realized this for a long time now, the Hellenic Chamber of Hotels introduced and established the "Greek Breakfast" Program 10 years ago. An essentially integrated product, with a distinguished identity and a proper certification system, that has won over the hearts of Greek hoteliers and of course their guests and has opened new avenues of extroversion for the Greek production.
The "Greek Breakfast" Program is the best example of the value of synergies among various sectors and industries of the economy, in order to productively exploit the comparative advantages of our country, a prerequisite for exiting the financial crisis. It serves as a vehicle for showcasing the value of nutritional culture, as well as creating new opportunities for the demand of Greek products in international markets. Τhe Hellenic Chamber of Hotels fully supports the "Sympossio Greek Gourmet Touring", this laudable initiative of Aldemar Resorts Group, and wishes every success to its 10th consecutive organization. Through its culinary events, "Sympossio Greek Gourmet Touring", is an ambassador of Greek products, our nutritional culture, tourism and our beloved country after all!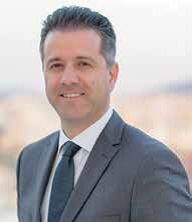 Grigorios Tasios
CHAIRMAN OF HELLENIC HOTELIERS FEDERATION
BRINGING FORWARD GREECE'S DELICIOUS ADVANTAGES
Gastronomy really upgrades the overall touristic experience, while it could also be strong "magnet" for high-class visitors with special interests, that ultimately constitutes the core audience of gastronomic tourism.
Greece has every right to take advantage of the global food trends, methodically and in an organized way, to bring forward its unique characteristics, such as the richness of Greek cuisine, which stands on top of the Mediterranean diet, and is based on top quality Greek products. Surely, there have been important steps towards this direction. However, we have to move further and smarter; we have to expose the great variety and sophistication of Greek cheeses, apart from the globally known Feta. In the very competitive hospitality market, Greek gastronomy can make a difference in terms of user experience, especially if it we add parallel activities as well, such as cooking workshops, local market and production areas visits, or food festivals. Moreover, gastronomic activities can serve as the best example to prove the benefits of synergies between sectors can do, a necessary condition for a progressive way of doing sustainable macro-economy. As a project that engulfs this modern concept of strategically planned gastronomy, I wish every success to Sympossio Gourmet Touring, a dynamic institution that rightfully exposes Greek products, local markets, our food culture, Greek tourism and our country in general!