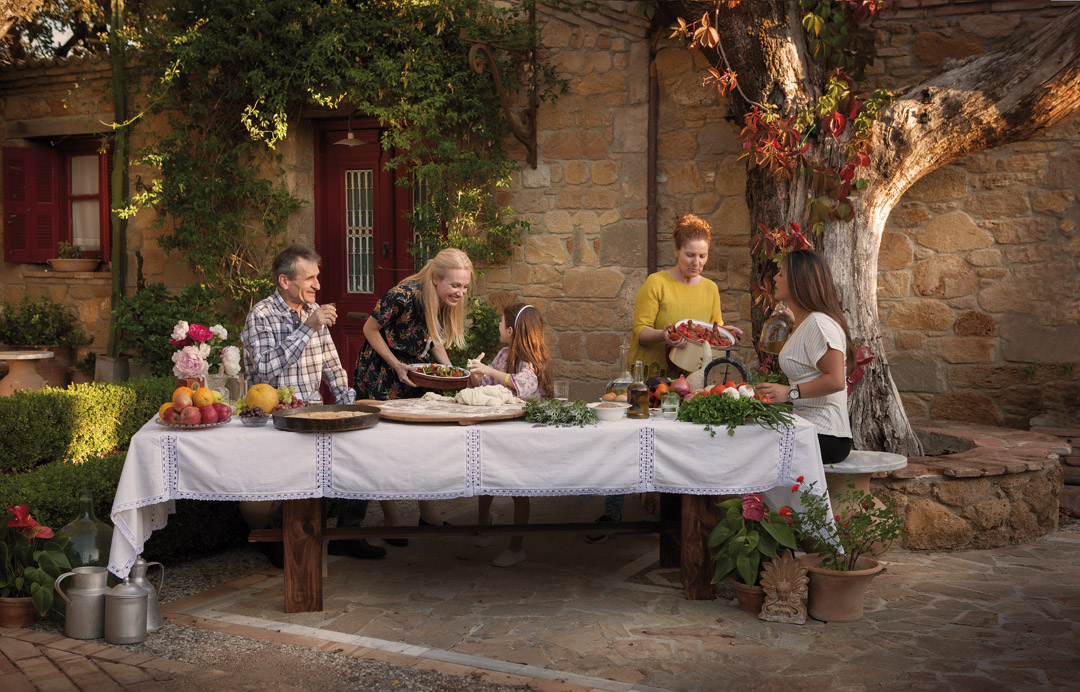 One could easily argue that, for Greeks, home cooking serves as a recollection of early years: weekday stories at home with parents and siblings, exciting Sunday visits to grandma's and grandpa's house, and so on. It is the one thing that bears testament to the pleasures of everyday life at home, where food is placed at the top of the family agenda.
Admittedly, home cooking has always been an inherent value in local tradition; one that transcends sex, age and income. Practiced in almost every Greek home, whether rural or urban, home-cooking is considered synonymous with food prepared with care and love. And rightfully so.
The mother or the grandmother picks out the recipe well in advance and works tirelessly behind the counter, trying to perfect it. She collects the ingredients—natural and fine—sometimes even at the last moment to ensure they are fresh. No matter what the main dish is, she makes sure that the meal is rich in flavour and aroma. Cooking involves either the stove—where she places the pot or the casserole—or the oven.
While waiting for the food to cook, the housewife sets the table with a bright tablecloth and decorates it with freshly-cut flowers. On it, the housewife places a basket with a warm loaf of bread, a side dish with feta cheese and possibly olives and a bottle of local wine. Everyone sits at the table, eagerly waiting for her to appear with the casserole in her arms.
Home cooked food is all about commitment and genuine hospitality. The mere idea of a homemade meal rouses a sense of belonging; some sort of connection with family and loved ones, as it is not only made with consideration, but also with a clear focus on both taste and nutritional value.
For the people of Greece, home cooked food does not relate to food per se; it is rather a sentimental notion. It is the alluring scent coming from the kitchen that greets you on your return from school or from work, on your first leave from the army or on your surprise visit from the college dorm or your bachelor apartment. Not only is it an opportunity for the immediate family to come together, it is also the perfect excuse for the extended family to meet up: uncles, aunts and cousins. And it is an act of pure love, sought, acknowledged and credited.