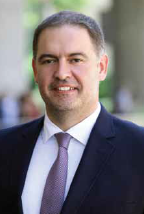 "SYNERGIES AMONG VARIOUS SECTORS AND INDUSTRIES OF THE ECONOMY OPEN NEW AVENUES OF EXTROVERSION FOR THE GREEK PRODUCTION"
Today, more and more people recognize the importance of Gastronomy for the endorsement of Greek products, the quality of Greece's primary production, and Greek tourism, as well as for the promotion of brand Greece.
Being in the vanguard of this concept for years, the Hellenic Chamber of Hotels introduced and established the "Greek Breakfast" Program. An integrated product, with its own identity and certification system, which won over the hearts of the guests of Greek hotels and opened new avenues of extroversion for the Greek production. Each Greek hotel which adopted the "Greek Breakfast" Program, has created an unforgettable, unique experience for its guests, thus becoming the vehicle for showcasing the value of Greek nutritional culture, as well as creating new opportunities for the demand of Greek products in international markets.
The "Greek Breakfast" Program is a good example of the value of synergies among various sectors and industries of the economy, in order to productively exploit the comparative advantages of our country, a prerequisite for exiting the financial crisis.
Within the context of this modern perception of the importance of Gastronomy, the Hellenic Chamber of Hotels fully supports the "Sympossio Greek Gourmet Touring", this laudable initiative of Aldemar Resorts Group and wishes every success to its 9th consecutive organization. "Sympossio Greek Gourmet Touring", is -through culinary events- an ambassador of Greek products, our nutritional culture, Greek tourism and our beloved Greece after all!
Alexandros Vassilikos
PRESIDENT OF HELLENIC CHAMBER OF HOTELS