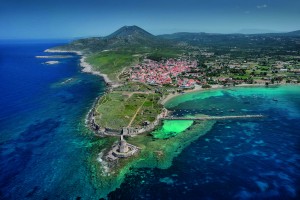 The Aldemar Resorts Group is happy to organize, for the 9th consecutive year, the Sympossio Greek Gourmet Touring, with the collaboration of Greek producers, trade partners and state bodies.
The synergistic program of Sympossio aiming to promote authentic Greece abroad; an initiative of Alexandros Angelopoulos, VP of Aldemar Resorts, has become an institution in the international and national tourism market. Sympossio 2018 is expected to travel to over 30 cities in 15 countries of East and West Europe. This year's journey begun on February 1st from Estonia and in the next couple of months it will pass through major cities in Russia, Ukraine, France, Germany, Czech Republic, Italy, Great Britain, Romania, etc., estimated to reach over 1,000 people.
For 2018, Sympossio presents "Peloponnese: the Unexplored Island", displaying the land's natural attractions as well its less known paths, through traditional, local recipes. The participants will get a glimpse of Greek traditions, their colours and flavours, and of a precious family Sunday meal presented in a modern version.
Sympossiο manages to bring together the public and private sector, ensuring the support of the Minister of Tourism, the Regions of Peloponnese and of Western Greece, being organized under the auspices of the Greek National Tourism Organization, Enterprise Greece and Hellenic Chamber of Hotels, and having by its side hoteliers, trade businesses and local producers from the Peloponnese.
Sympossio Greek Gourmet Touring opening event will be held on Thursday, February 15th at St. George Lycabettus to commence the 9th year of the program, with a dinner offering this year's selected menu.