A Guide to Gourmet Greek Cheeses
They say that the talent of a host is mirrored in the way they compose their cheeseboard. Here is our list of 9 gourmet Greek cheeses we absolutely recommend you to try and include in your talented plateau.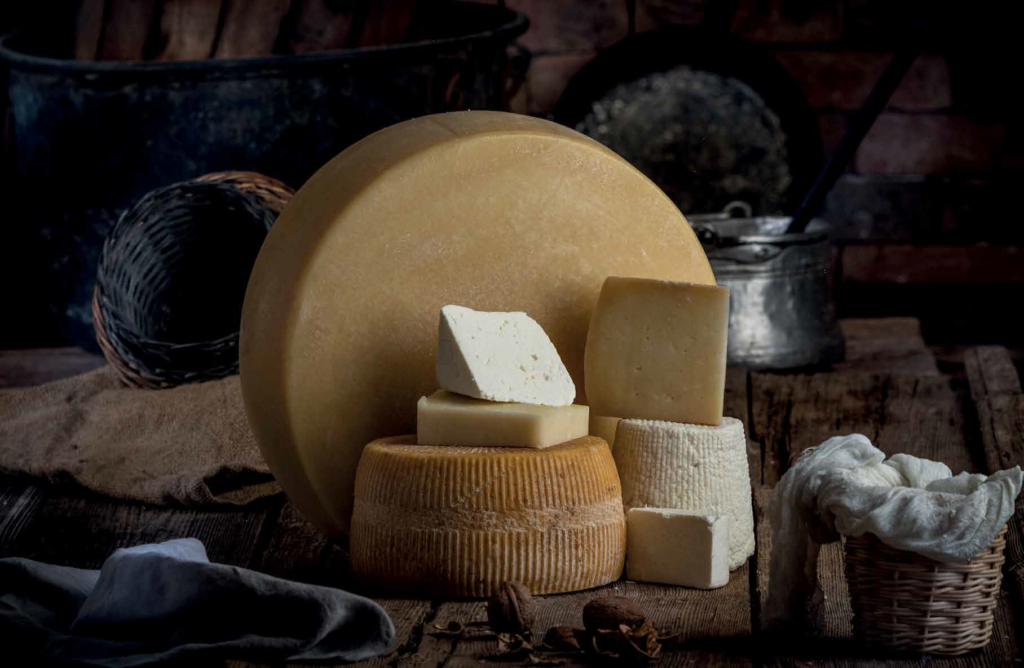 "ARSENIKO" (I.E. "MALE") KEFALOTIRI OF NAXOS
Naxos Kefalotiri is made of sheep's and goat's milk and has a very distinctive taste, as it becomes spicier and more aromatic, the more it ages and matures. It is a perfect "meze" for ouzo and tsipouro.
"METSOVANA" OF METSOVO
A rare cheese from Metsovo, it is made of cow's milk and matures for two years on wooden shelves. You could say it is the Greek Parmesan; strong taste, hard in texture, and with a spicy aftertaste.
"FETA" OF KEFALONIA
A famous Feta made of goat's and sheep's milk, that ages in barrels, where it acquires a rich buttery taste. The king of Greek salad.
"KOPANISTI" OF MYCONOS
Soft, spicy and aromatic, looks like a spread but it is definitely more than that. Serve it on traditional Greek rusks, with a side of tomatos. Thank us later!
"SAN MIHALI" OF SYROS
One of the most famous cheeses of Cyclades; a hard, golden-yellow cheese, made exclusively of local cow's milk. Spicy and buttery, it makes the greatest "saganaki" and also works great with fruit.

"KASKAVALI" OF LIMNOS
A historical cheese of the island, made of local sheep's milk, with a unique buttery taste. You can serve it raw, but it is also great as "saganaki" (fried) or grated on your pasta and risotti.
"KEFAVOGRAVIERA" OF AMFILOHEIA
Rich taste from sheep's and goat's milk, this is a salty and spicy cheese with butter and nuts aromas, that makes a perfect match for raki and wine.
"GRAVIERA" OF CRETE/PAROS/NAXOS/ANDROS
The great "Graviera" form the Greek islands is made of sheep's milk and ages for at least three months, to bring out its semi-sweet buttery taste. It is amazing with with Greek honey and fried zucchini or eggplant.
"SFELA" OF MESSINIA
Often called "The cheese of fire", because of its strong peppery taste. A semi-hard cheese, made of sheep's or mixed sheep's and goat's milk, that matures in brine. Serve drizzled with Greek olive oil and oregano.