Our trip to Western Greece will be a delightful journey in flavours, traditional recipes and cooking elevated to art. Undoubtedly rich, the local cuisine with the famed local produce adding distinctive flavours to redoubtable quality. Select vintages and wine routes also take the visitor to an enjoyable adventure into the viticulture of the region.
Of course, the final secret ingredient in wining and dining anywhere in Western Greece is the warmth and hospitality that comes with each serving, a sprinkling of authenticity to embellish every meal. Excellent quality is a hallmark of all the local produce and the staple of the Mediterranean diet, olive oil, is the flagship ingredient, the foundation of all things savoury.
In Achaia, with its formidable reputation for the variety of dairy products, with the Protected Designation of Origin (PDO) Feta Cheese of Kalavrita being the pride of all. Pasta lovers too will give thumbs up to the traditional trahana and hilopites. Essential taste experiences are the exquisite fried trout of Planitero and the anchovies marinated in olive oil served in the traditional fishing village of Alykes.
In addition, the PDO Vostizza black Corinthian raisin is an exclusive product of Aigialeia. Abundant in quantity, it finds its way into several classic recipes, such as stuffed tomatoes and peppers or cod.
Finally, you can't miss the land of Olympia, famous for its products which are in great demand all over the country, not to mention the world! You will travel through time by tasting traditional dishes, like hondromenoudelo (a type of pasta), kagiana with tsigaridia (salt pork with eggs and tomatoes), pumpkin pies and, for dessert, stroto, their own version of baklava from Lampia. Your gastronomic experience is completed by the finest quality local wines. The renowned white wine Roditis is recognized as a Protected Designation of Origin, whereas the sweet tasting wine "Mavrodaphne Patron" has been classed as a Controlled Designation of Origin (AOC), as has the popular white Moscato.
Overall, Western Greece is a compilation of different experiences which –individually and collectively– have an inspiring effect on visitors, combining the discovery of unique destinations with the satisfaction of personal taste desires. Really, what a divine way to flavor your holiday!
---
THE SECRET INGREDIENT IN WINING & DINING IN WESTERN GREECE IS THE AUTHENTIC WARMTH & HOSPITALITY THAT EMBELLISHES EVERY MEAL
---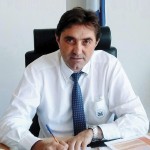 BY KONSTANTINOS KARPETAS
DEPUTY HEAD OF REGIONAL DEVELOPMENT & ENTREPRENEURSHIP
REGION OF WESTERN GREECE