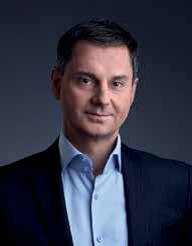 Harry Theoharis
MINISTER OF TOURISM
Our gastronomy is a great ambassador of our country. Salutation from the Greek Minister of Tourism.
As Greece's strategy towards tourism is being transformed in order to embrace… to embrace a new model of year-round tourism based on quality and experiences, it is a great pleasure to endorse such initiatives as the Sympossio Greek Gourmet Touring. Aldemar Group has been investing towards this strategy for a decade now, and promoting Greek gastronomy internationally; indeed, Greek produce and Greek cuisine are an integral part of the touristic experience and it is our responsibility to safeguard its authenticity and its potential.
I firmly believe that Greece should claim a leading role in the global gastronomy scene and be a catalyst in our effort to offer guests coming to Greece unique lifetime tourism experiences. Our gastronomy is also a great ambassador of our country and to this end, I would like to congradulate Aldemar Group for successfully establishing Sympossio. I am certain that all participants will immensely enjoy it and that it will further promote our country's brand abroad.
---
I FIRMLY BELIEVE THAT GREECE SHOULD CLAIM A LEADING ROLE IN THE GLOBAL GASTRONOMY SCENE.