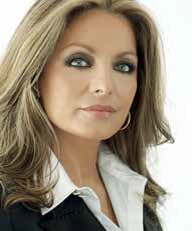 Angela Gerekou
PRESIDENT GNTO
Tourism is a crucial part of Greece's economy and it's time to move further concerning investments, the quality of services that are offered and of course marketing.
Greece is a many-in-one country and by that we mean many and different options for international travelers.
In Greek National Tourism Organization we respond to the global trends and promote sustainable tourism growth, as we strongly believe innovation is a major key for a successful tourism development.
And this is a strong reason for our 2020 marketing campaign in digital media, targeting towards the introduction of smart technologies and innovation in tourism industry and giving a strong push for the right balance between attracting visitors and quality management.
We ought to be more productive proactively, in favor of both businesses and local communities. Adding quality to the mass tourism products and services and unlocking the potentials of special interest tourism fields such as cultural, culinary, athletic, rural tourism etc, is a guarantee that Greek tourism can handle future crises that may arise.
We are all well aware that competition is fierce and in the Greek National Tourism Organization we are aiming to a new beginning, in the rise of the new decade.
In order to promote Greek Tourism and be essential for the whole country's development we have established the new Regional Tourism Council, to promote cooperation between the 13 Regions of Greece and the State, and also, we have an open and continuing dialogue with business actors and local authorities.
Although not everything depends on tourism, tourism depends on almost everything. This also requires thinking long-term (10, 20+ years) and realizing that change is often cumulative, gradual and irreversible.
For succesful future plans, economic, social and environmental aspects of sustainable development must include the interests of all stakeholders including indigenous people, local communities, visitors, industry and government.
The Ministry of Tourism and the GNTO are working together, towards the path for sustainable/responsible planning and management that is imperative for the industry to survive as a whole.
---
ALTHOUGH NOT EVERYTHING DEPENDS ON TOURISM, TOURISM DEPENDS ON ALMOST EVERYTHING.