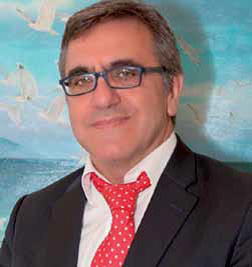 Constantinos Tsegas
Secretary General GNTO
(Greek National Tourism Organisation)
Greece constitutes a delightful kaleidoscope of local culinary creations. Each and every region of the country, according to its climatic features, the composition of its soil, as well as its history, has shaped its own culture and even more so in the culinary sector. Greek gastronomy constitutes one of the most precious elements of Greece's cultural heritage. Let us not forget that the first cookbook ever to be created, was in fact Greek.
The local gastronomy is based on produc ts of the Greek soil that are both pure and of unique quality. What is surely revealed, is the strong bond and passion that connect the individuals to their own land of origin. Cultural features are revealed, thus enhancing the visibility of the tourist product while at the same time empowering the identity of every region as a culinary and wine destination.
It is the valuable "ingredients", of each region, that the SYMPOSSIO Magazine has been showcasing and promoting for ten years in a row, exhibiting the same zest, the same care and the same love that every Greek feels for the cultural heritage that is on their table. Sympossio's effort is being added to the efforts of the Ministry of Tourism to further boost particular features of the Greek tourist product. Under the law 4582/2018 a series of regulations concerning tourist products is being completed. Among these, there is a clear reference to gastronomic tourism (Article 14), which, as a recreational tourist activity, introduces travelers to the history, traditions and the customs of each region, offering them an authentic travel experience. In this way, new Greek destinations emerge, while at the same time supporting communities both culturally and financially.
I whole-heartedly wish that the Sympossio team proceeds with this project, playing their part too in Greece's promotion.
Wishing that 10 years become 100!