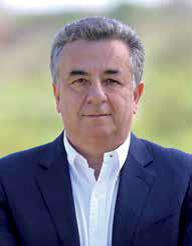 Stavros Arnaoutakis
GOVERNOR OF THE REGION OF CRETE
The Region of Crete follows innovative strategic plans for the touristic promotion of the island, as a destination for people with special gastronomic interests and visitors that follow international trends and seek experiences, where gastronomy, local products and cuisine are key-points. Having that in mind, we see Symposio Greek Touring as a reinforcing power, along with all our initiatives for the exposure of Cretan culinary tradition and civilization.
For us, the agriculture-gastronomy duo, co-exists with the land's authentic character and history. This constitutes the uniqueness of our land that dares-among others- to break away from the safety of conventional tourism, by bringing forward its gastronomic identity and its rich raw materials. Towards this direction, Cretan cheeses are one of the most basic pillars for the overall promotion of the famous Cretan diet, that consists of products of high nutritional value, made with devotion and craftsmanship, by livestock producers and cheesemakers that follow traditions of thousands of years, that have lived for ages at the high tops of the island's mountains.
To this year's 11th Sympossio, under the subject "Greek Cheeses" and personally to Mr. Angelopoulos, we wish every success, while we also congratulate the brilliant effort to promote the Greek and Cretan diet.
---
THE UNIQUENESS OF OUR LAND THAT DARES-AMONG OTHERS- TO BREAK AWAY FROM THE SAFETY OF CONVENTIONAL TOURISM.