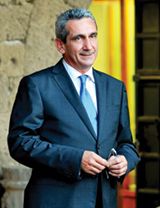 THE SYMPOSSIO
Sails In The
AEGEAN ISLANDS
The Region of  the South Aegean, "European Region of Gastronomy 2019", welcomes you to an initiation ceremony into the secrets of the oldest and richest cuisine in Europe: Aegean Gastronomy. For over 3,000 years, the Aegean Islands Cuisine retains intact its basic ingredients and its unique and authentic flavours.
From Homer's brilliant descriptions and the ancient symposia to the writing of Deipnosophistae, from the "Hippocrates Diet" and "Plato's Symposium" to the  "Siren Feasts" by Andrew Dalby –recording the starting point of a fascinating historical route running through the Roman period, Byzantium, the Frankish State, the Ottoman and Venetian period– the gastronomy of the Aegean, as an integral part of Greek hospitality, follows the traces of uninterrupted continuity from prehistoric times until today.
Fifty different islands, with fifty different cultural particularities and traditions, compose the gastronomic culture of the South Aegean Region. The basic ingredients are a major part of island gastronomy; it is a feast of flavours and aromas. It is a treasure formed by the complex landscape, the microclimate, the sun, the wind and the salty sea breeze. In the vast golden olive groves as well as in the ancient vineyards, the winemaking and gastronomic tradition of the Archipelago is a valuable and ageless part of Greek and European civilization in general. Aegean's excellent and unsurpassed gastronomic wealth has bestowed plenty to the modern European nutrition and cuisine.
With gastronomy being the ideal ambassador for our islands, with our authentic local produce and traditional dishes that add value to island hospitality, our aim is to shape the kind of tourism that embodies the culture of the local cuisine.
We therefore ask you to become the initiates in this ritual of flavours that swarm Aegean gastronomy and to realize that the experience alone is worth living!
George Hatzimarkos
Governor of the South Aegean Region
"GASTRONOMY IS THE IDEAL AMBASSADOR FOR OUR ISLANDS,
ADDING VALUE TO HOSPITALITY & SHAPING THE KIND OF TOURISM WE WANT"