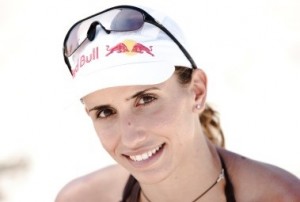 Vicky Arvaniti is a professional Beach Volleyball athlete. She has reached an ultimate high in her strength of the game since her debut beach volleyball performance at the first U-21 international event in Catania at the age of just 16 years old, winning the 4th place.
For her, to become a member of the national beach volleyball team was a dream which came true, as she teamed up with Vasso Karadassiou. Together they secured 8 gold medals in the European tour, and they were twice crowned "European Champions". The team Arvaniti – Karadassiou won a gold medal in the Fivb Grand Slam in Stavanger, making Arvaniti the youngest player to ever win a gold medal in the world tour. On the 2005 tour, which followed, Arvaniti was also named "Most Improved Player".
Since then, Arvaniti has competed in three Olympic Games –Athens, Beijing and London– with 3 different partners. Her ultimate goal is to participate in the 4th Olympic Games Tokyo 2020 with her current partner and complete a remarkable career.
Arvaniti is currently studying at the National and Kapodistrian University of Athens, in the Department of Primary Education. This year, she has decided to take a break from the competition so as to concentrate on her studies and for family reasons.
"As an athlete, I used to travel for many years around the world representing my country with will, militancy and respect. Sport is a very big part of our culture. But Greece has also other aspects that should be known abroad. Greek Gastronomy is one of the best in the world and I feel honoured to be part of this expedition and spread the "taste" of our Greek islands all over the world."